So yesterday we had LOTS of wet around here!! We started getting rain on Sunday evening or more closer to Monday morning between midnight and 1am. It continued in a down pour for 5 hours straight and left us living in a lake. Needless to say our desert landscaping is not done to help the flow of water... We just don't need that here! :0)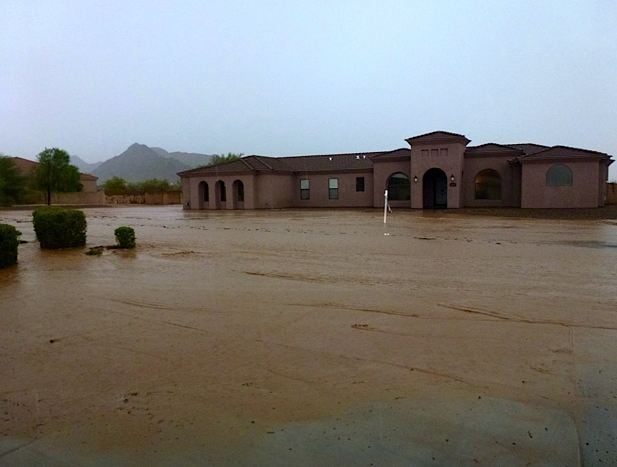 Not our house, but one a few miles away actually..
They closed all the schools around here and most the roads were not visible, so Alex ended up turning around and coming right back home too. So we had a family fun day!! I made a big pot of chili and fresh bread (yes, not really cold enough but we turned the AC up a bit and went with it.) and we watched some movies. Then the board games came out and we had a pretty competitive game of old school Monopoly that was super close, but Alex took the crown. Oh that is important, so I must explain... You see about ten years ago Alex dressed up as a king for Halloween and he found this really nice crown. He didn't want to put it away after the holiday and so it became a trophy for our family game nights, so if you won that weekend you had the crown for the week.
Yes, our crown is this cheesy!! :0)
Since the kids have gotten older we haven't had as many game nights in the past year or so... Well the crown was brought out and we had a major battle! Over the years our board game collection has grown pretty large, so we had a few rounds of rock, paper and scissors to decide what would be played.
Alex and I retired up to our room around 6pm to watch Monday night football, he actually joined a Fantasy football league this year!! (Was maybe hoping for a repeat of last year's Fantasy Football spanking...) So we both had our iPads, munchies and drink of choice lined up and got ready for the fun to begin... Only we sort of got side tracked a bit!
I spilled my vitamin water on myself and it's the Dragon Fruit flavor so it's bright red, not good for a white (I know after Labor day, but I was at home no body saw!!) jump suit. So I took it off and was rinsing it in the bath when Alex decided to help... Well we ended up in the tub and our bathroom floor looked like our yard by the time we were done sloshing around. Wink!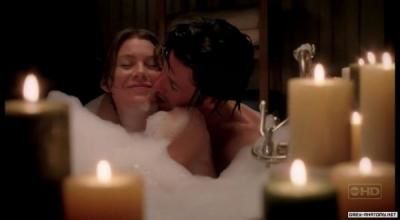 No FF spanking, but I still have a very LONG season of football to get another one! HA! We both did well in our leagues, but we didn't really watch very much football.. Guess we should try harder on Thursday. :0)